"If you don't have this on your doors you might as well leave them open." Dallas Police Officer
SECURITY BEGINS

WITH YOUR DOOR
IT TAKES 10 SECONDS FOR AN INTRUDER TO ILLEGALLY ENTER YOUR HOME...
WHAT DOES SECURITY MEAN TO YOU?
HOME ALARM
Your home alarm system alarm does nothing to stop an intruder from entering your house! Alarms make noise. That is all.
POLICE
Police Response to an alarm is often more than 30 minutes.
GUNS, DOGS, ETC...
Guns and dogs work AFTER an intruder is in your home! What happens when your family is alone?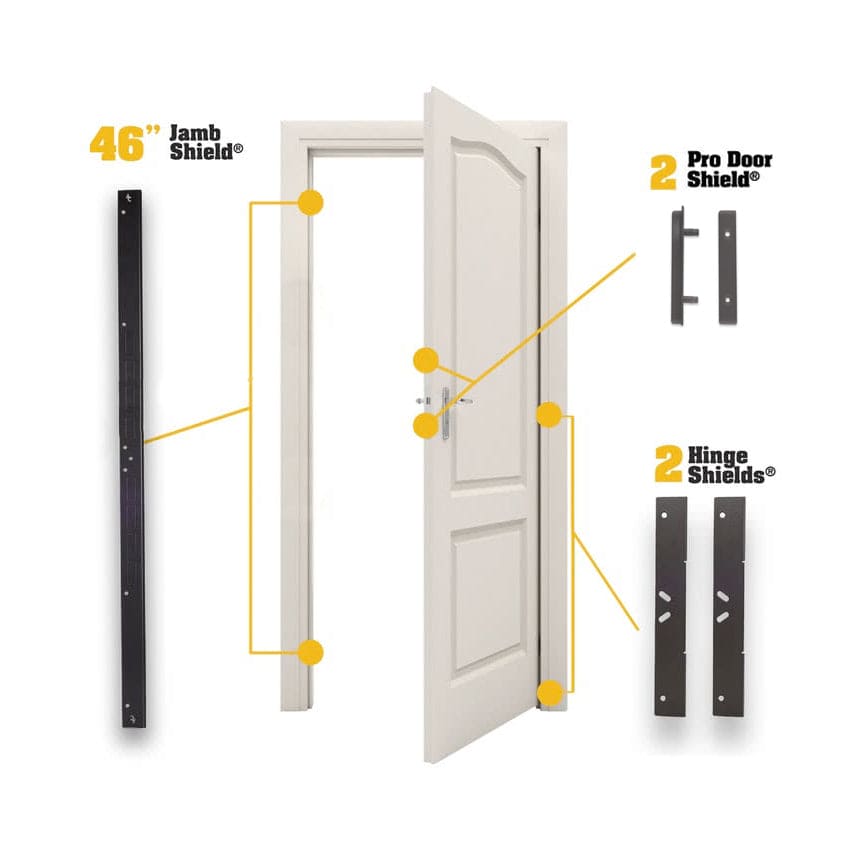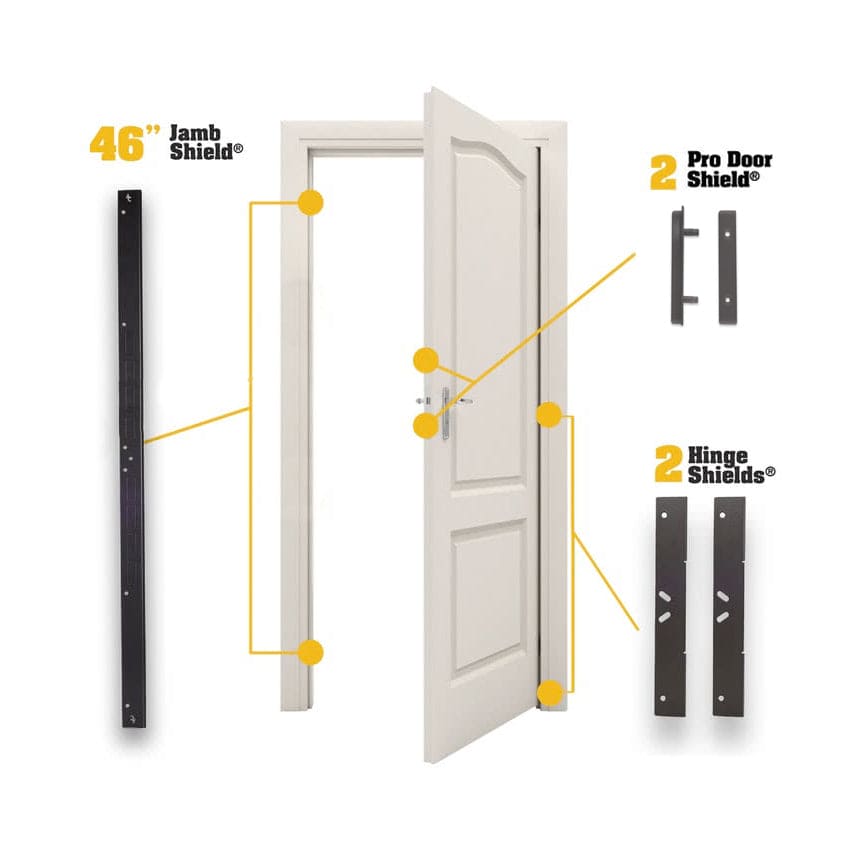 Door Armor PRO MAX Door Security SPECIAL OFFER
FREE PRO DOOR SHIELD UPGRADE - $40 Value!  LIMITED TIME ONLY!!!
ULTIMATE PROTECTION FOR ANY SINGLE ENTRY DOOR! 
Door Armor is simply the best home security device ever created.  Installed on more than 500,000 doors without fail, Door Armor is  trusted by homeowners, apartment owners and law enforcement. 
Our New PRO Door Armor kits feature PRO Door Shields, which eliminate installation issues and add additional protection against prying.  For a very limited time, you can get PRO Door Armor at a very special price...
DOOR ARMOR COMPONENTS
Jamb Shield is 46" long. It attaches to the lock side of the door jamb. The Jamb Shield is cut with knock-out holes that are designed to fit locks spaced from 4.5" to 21.5" apart. 1 is Included with Every Door Armor Kit.

Door Shields:  Door Shields are essential for ensuring that the door will not split when kicked.  PRO MAX Kits come with both PRO Door Shields and MINI Door shields so you can decide which you want to use.
Hinge Shields are L-Shaped pieces that install over the existing hinges so there is not need to remove your door for installation.  Smart thieves kick the hinge side of the door.  2 are Included with Every MAX Kit
Every Set Includes 17 3-1/2-Inch painted Torx head screws, with self tapping tips.  4 2-1/2-inch painted Torx head screws, with self tapping tips.  1 Torx drill bit.  Instructions.

Door Armor can also be used to repair damage from an existing kick-in. Statistics show that a previously burglarized home is 4X more likely to be burglarized again.
GUARANTEED FOR LIFE
If your door is ever kicked-in, we will replace the product for free and pay up to $500 towards your homeowners insurance deductible.
Door Armor was recently featured by Skip Bedell on the Fox News show Fox & Friends.

Since 2004, Armor Concepts and Door Armor have been featured on just about every major news network and countless local news segments.
WHY DO

POLICE

RECOMMEND DOOR ARMOR?
BEWARE OF "

FAKE NEWS

"...
Since 2004, our door security products have been put to the test thousands of times. News teams, big bad guys (all seemingly named Bubba), Police and many others have believed that Door Armor would fail. This video is one of the best.

There are many fake videos on the Internet these days. This video was made in 2012 and we had zero involvement in performing this test. We actually didn't even know about it until after. The company that made this video set out to prove that it would fail. See for yourself what happens...
WHY DO I NEED

DOOR ARMOR?
SINCE 2004, LITERALLY

THOUSANDS OF TESTIMONIALS
THIS SOUNDS GREAT...

BUT I ALREADY HAVE...
Section
Drop element here!